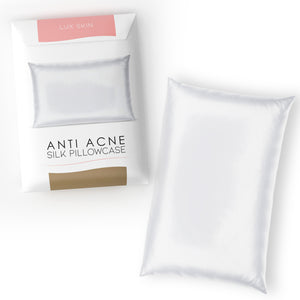 WHAT IT IS: 
An amazing, 22 Momme 6A Grade (the highest grade) 100% Mulberry Silk pillowcase that has acne prevention benefits.
All natural and hypoallergenic! 
Our silk pillowcases reduce bacteria spread which prevents acne and reduces the
risk of getting clogged pores.
Our silk is more than nearly 5x more breathable than cotton pillows which help to regulate temperature and improve your sleep.
WHY IT'S SPECIAL
Your skin will love it! (Anti acne and ageing benefits)
Your hair will love it! (Less frizz and friction)
Gentle on skin, antibacterial and super comfortable!

Why Over +800,000 Choose LUX SKIN:

100% Money-Back Guarantee
If you are not satisfied within 90 days, you can get a full refund!

Lowest Prices
Our prices are generally 50-80% LOWER than competitors. Our priority is customer satisfaction rather than huge profit margins!

Fast and Free Shipping
We have reliable and fast shipping from the USA. Free for orders +$100!